Appearances of Yoshiaki Masuo:
* Often on Tuesdays at Arthur's Tavern in New York with drummer Yuichi Hirakawa, who is a Tuesday evening regular at Arthur's Tavern, except when Masuo is touring away from New York.
Some YouTube videos in which Yoshiaki Masuo plays
( You can choose to play the following Youtube videos with a higher resolution by clicking the gear shape icon (the Change quality icon) that appears on the lower right of the video screen area and then selecting a resolution. )
Yoshiaki Masuo's Power Spot band in Japan video-recorded in Nov and Dec, 2012:
Dealing with Life by Power Spot band
Leader by Power Spot band
(The band got even better after the video recordings, during West Japan tour in Feb, 2013).

Canatrio & Guest Y. Masuo in Japan (Nov, 2012):
Still Believing in Dreams (music by Masuo)
Are you happy now (music by Masuo),
Give Me a Cymbal (music by Kazuhiko Michishita)
and some other tunes. Search YouTube for them with keywords Canatrio Yoshiaki Masuo.

Yoshiaki Masuo Trio at Blue Note NY (Mar, 2012)
Minor Adjustment (music by Masuo)

Sonny Rollins' band in London 1974:
Sais at Ronnie Scott's 1974 (10:33) by Sonny Rollins
East Broadway Rundown 1974 (5:27) by Sonny Rollins

Performing in Japan in and around Feb 2013
Masuo is performing with his newly formed band, "Power Spot". Power Spot plays Masuo's original tunes, old and new, including those on the albums from the Electric Bird label (Sailing Wonder, Good Morning ) and Mellow Focus.
Single track One Word (words and music by Yoshiaki Masuo) digitally released for tsunami aid
"One Word" composed by Yoshiaki Masuo and recorded with the help of dozens of star musicians and music-related professionals under the production and direction of Yoshiaki Masuo, was digitally released for aid to Japan's earthquake and tsunami-hit areas. It was available at the One Word download store on this site, which closed at the end fo May, 2012, but but you still can order one for download via e-mail and make payment via PayPal. Purchase MP3 for $3.00 or WMP/Apple lossless for $6.00. All profits from this recording will be donated.
CD Around The World by Yoshio Chin Suzuki and Yoshiaki Masuo

Released on June 22, 2011 in Japan by One Label (55 records). The album contains some original songs written by Yoshiaki Masuo. Go to the Sound Clips page on the Chin Suzuki's website.


Masuo's second album 24 (Twenty Four), recorded in 1970 is now back in print on CD! (released May 25, 2011)

Masuo's New Album I'm Glad There Is You Available! (written: Sep 2009)
This is a duo album recorded with pianist Bill Mays. Read a note written by Masuo about this album on the Sunshine Ave. Label website.
Masuo's Six Albums on the Electric Bird jazz-fusion label including The Song Is You And Me and Sunshine Avenue RE-ISSUED by KING Records in Japan on Aug 5, 2009. (written: May 2009)
These are limited-copy editions on SHM-CD (Super High Material CD. playable on ordinary CD players) in paperboard sleeves. 2800 yen each. An online CD store HMV Japan offers English pages and international shipping. See Masuo's CDs on HMV Japan site
. Here is the list of titles and their CD code.
- Sailing Wonder KICJ92301 buy on HMV
(lower-priced edition KICJ2201 also available
)
- Sunshine Avenue KICJ92302 buy on HMV

- Good Morning KICJ92303 buy on HMV

- Masuo Live KICJ92304 buy on HMV

- The Song Is You And Me KICJ92305 buy on HMV

- Finger Dancing KICJ92306 buy on HMV

If you love the above albums, you may also like Life is Good, which has a few straight-ahead jazz tracks but very relaxing as a whole.
Masuo As a Sideman on one of archived videos of 'SOUL!' (70's TV Show) : October 11, 1972 "A Night with Ashford and Simpson at Club Soul!" (written: Feb, 2009)
Accompanying the duo are guitarist Yoshiaki Masuo, bass player Francisco Centeno, drummer Charles Collins, percussionist Ralph McDonald, keyboardist Nat Adderley Jr., and so on. Masuo is shown in close-up for a moment in the 26th minute (in chapter 8), 33rd minute (chapter 9), and 35th minute (chapter 10).
The Studio closes at end of Jan, 2008 (written: Jan 17, 2008)
The Studio, a recording studio in New York run by Masuo, closes its door at the end of January 2008 after over 20 years of operation. Located in the Soho area where upscale boutiques and restaurants line the streets, it has been used by producers and musicians not only in the United States but also from many other countries in the world including Masuo's home country Japan, other Asian countries, and European countries. Because the ownership of the building that houses The Studio has changed recently, Masuo has no choice but to move out of the building by the end of the current lease term, even though the studio is still in strong demand. The instruments and equipment will be moved into Masuo's new private studio, which is now under construction in the countryside of Pennsylvania.
With his Sunshine Ave label about to take off, his new period of life starts. He will likely be able to focus more on the activity as a guitarist. (See photos of Masuo's studio in NYC)
I'm Glad There Is You
Yoshiaki Masuo and Bill Mays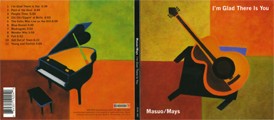 Go to the Sunshine Ave. Label's website to
hear sound clips of and/or purchase the album.

Life is Good -- Yoshiaki Masuo
featuring Larry Goldings and Lenny White
(recorded with many more musicians)
There is a review on Life is Good on the Smooth Jass site.

Go to Sunshine Ave Label's website (masuomusic.com)
to hear sound clips and/or buy Life is Good.
CD Price: $15 plus shipping cost ($3 per order per shipping address within the U.S ; $5 per disc outside of the U.S.)
Personnel: Yoshiaki Masuo (g, vo, keyb, perc), Shirley Masuo (vo, perc), Larry Goldings (org), Bill Mays (piano), Mark Soskin (keyb), Ted Nash (flutes), Marcus Printup (flh), T.M. Stevens (electric b), Yoshio "Chin" Suzuki (b), Nori Naraoka (b), Kip Reed (electric b), Lenny White (ds), Tony Cintron, Jr. (ds), Nathaniel Townsley (ds), Kazuo Yoshida (ds, perc), and others

Read "About the Album (Life is Good)" written by Y. Masuo.
"Life is Good" is currently available on the Sunshine Ave. Label website and CDBaby. It is not available on Amazon (as of Aug. 2009). You can also purchase it at any venue where Masuo is performing on that day.
-->See Masuo's albums on Amazon.com (U.S.A)

--> See Masuo's albums on HMV Japan site
(English pages and international shipping from HMV available.)